We know that 31 October is going to be different this year for many of us, with fancy dress parties and trick or treating off the table. But that doesn't mean you can't have a ghoulishly great time from home. Check out our terrifying top tips below!
Fiendish fun for the whole family
Pumpkin trail
Back in April, windows were filled with rainbows and teddy bears, so younger children could go for a walk with their grown-ups and try to spot them.
For spooky season, why not put up a pumpkin in the window or on the doorstep and encourage your neighbours to do the same? You could even spend a rainy half-term afternoon carving, drawing or even sewing your window decoration ready for the big day!
Twilight treasure hunt
Grab a torch, glow-in-the-dark stickers and some treats and hide them around the house or garden. When the light starts to fade, turn the lights out and start your celebrations by inviting your little ghosts and ghouls to find as many as they can before sundown – if they dare!
Petrifying party
Once you're all dressed up, have your pumpkin in the window and are stocked up on treats, it's time to party! We've suggested some chilling tunes to start your playlist for an oogie boogie:
For tweens, teens and tricksters
Halloween is a rite of passage for older children – from going solo on their trick or treating escapades to watching their first scary movie after hours at a friend's house, they might just be too cool for a devilish dance party.
Virtual party
If you have access to a phone or laptop with a camera or webcam, why not set up an online gathering for a group of friends – get dressed up and guess everyone's costume, test your Halloween knowledge with a quiz or share spooky stories with each other. It might not be the same as an in-person event, but it's still an opportunity to connect with friends and celebrate the season.
Movie night
Set up a WhatsApp or Facebook group chat and press play at the same time on your Halloween movie of choice.
It doesn't have to be a super scary film – if you're watching with little brothers and sisters, why not try Spirited Away or The Corpse Bride, or introduce them to something with retro vibes like Ghostbusters, Gremlins or Little Shop of Horrors!
Do it for the 'gram
If your teen uses social media, why not help them set up a photoshoot to show off their costume to their friends? Set up a sheet as a backdrop, add some atmospheric lighting and a gloomy filter and be their own personal photographer for the afternoon.
You could even help them create a Reel or Tiktok video showing the process or combining some of the best shots!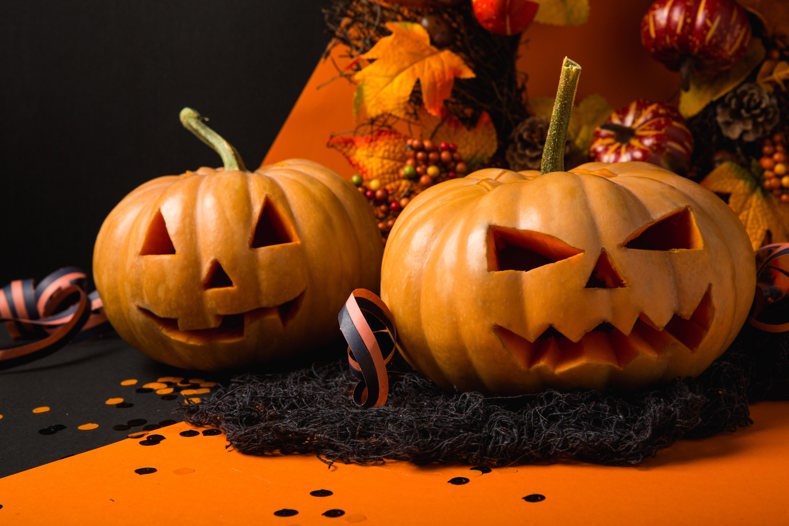 For gruesome grown ups
Not in the mood for treasure hunts and dressing up? Halloween's not just for kids!
Macabre movie marathon
We're not just talking popping something on in the background – pick a theme, grab some snacks, put your devices down and set up for an eerily enchanting evening. You could have a Hitchcock night (Psycho, The Birds, Vertigo), an evening of classics (John Carpenter's Halloween, Texas Chainsaw Massacre, The Exorcist) or if you fancy something a bit more light-hearted, go for some supernatural singing in musicals like The Rocky Horror Picture Show, Little Shop of Horrors and Sweeney Todd.
Wicked walking by the light of the moon
Make the most of the eery quiet this Halloween and take a stroll in the early evening when the sun's gone down – we're due a full moon so it's a perfect picture opportunity, or you can just soak up the moonlight and the chilly autumn air. Come home to a hot chocolate (with or without a little extra spirit!), get cosy and enjoy a quiet, relaxing evening in.