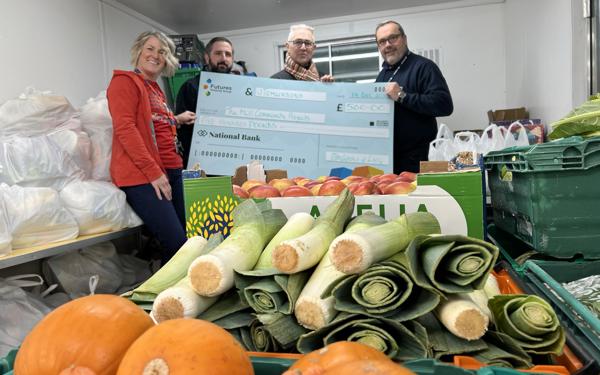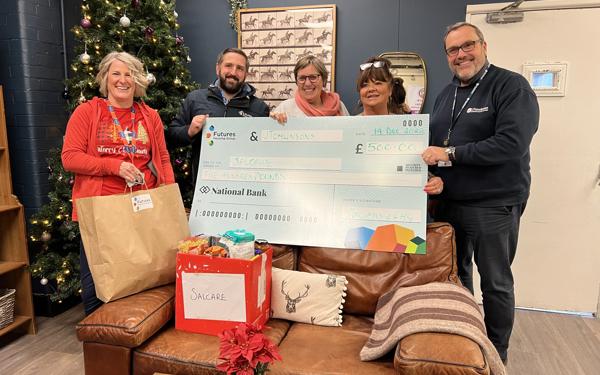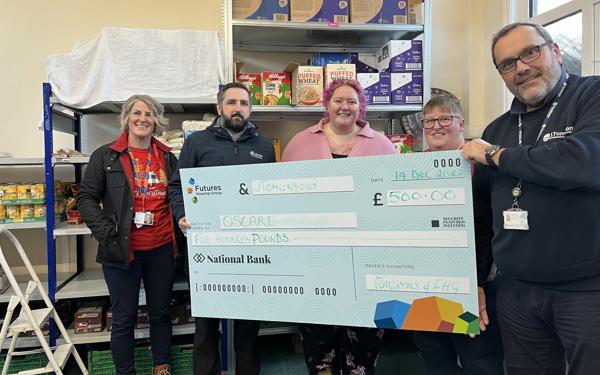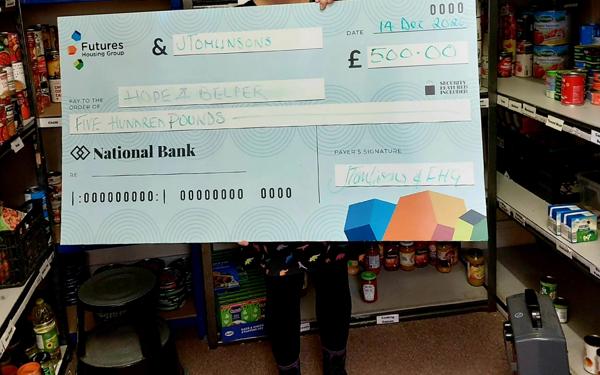 A phenomenal £7,000 has been donated to foodbanks across our community locations to help support the areas where our customers live.
The amazing total was achieved by the two contractors Futures use for gas servicing at customer's properties. J Tomlinson and Aaron Services, agreed to build up a pot of money for every time Futures successfully scheduled a free gas safety check, at a customer's home on a first attempt. They then kindly let us decide who the donation should go to.
It's no secret that the last year was financially challenging. Life essentials, including gas, electric and food have come at a higher cost than many have experienced before. So it's no surprise that this then means the demand from foodbanks is ever increasing.
We chose to donate the money to foodbanks in areas local to where our customers live, as we know they provide a much-needed support to the community.
Aaron Services, who service Futures' customers across Northamptonshire raised £3,500, which has been distributed in support of Hope Centre's Community Larder, Re:Store Northampton and Daventry Food Bank, at Vineyard Community Church. Angela Gee, Senior Pastor at the church said: "We're incredibly grateful for this generous gift. It's amazing, it's going to help us so much. This will truly make a huge difference."
In Derbyshire, J Tomlinson also raised £3,500 which Futures split across seven local food banks.
St Andrews Church, Langley Mill.
Salcare, Heanor
South Normanton Area foodbank, Alfreton
Oscari Church of Christ, Riddings
1538, Ironville
Salvation Army, Ripley
Hope for Belper, Belper
Jacqueline Bell, Director of Services at Salcare said: "This donation will make such a difference to people and families living hand to mouth. It'll help us stock up on the essential supplies to ensure people have food on the table. It's literally lifesaving, and we're incredibly grateful."
All food banks received a combination of financial donations, high street shopping vouchers, and food and toiletries.
Tracey Gibson, Organiser at Oscari said: "The cheque we received means a pallet of frozen food. That pallet of frozen food means 300 families are guaranteed a hot meal at night-time.
On average, each family has two children, so that makes four people per family. Those four people per family equate to 1,200 people being fed. So, the stark reality of it is that without the generosity of donors like yourselves, 1,200 people would go without food. That's a frightening thought. The cheque is a lifeline and a literal life saver to the people we help."
The money also enabled us to create 'warm packs', full of useful items including a blanket, torch and flask, which have been handed out to customers in need over the winter period.
We're incredibly thankful at Futures for the remarkable amount raised by J Tomlinson and Aaron Services. It's down to their donations and the hard work of our colleagues to ensure the gas services are booked, why this amazing amount has been achieved. To know the difference this will make to the neighbourhoods where our customers live is heart-warming, and we're proud and lucky, to have such determined colleagues and great relationships with partners like this.
We'll be visiting the locations in Northamptonshire in February to see the difference donations like this make.